Decentralised Frequency Inverters With Safe Stop from Nord
The Nord SK 200E inverter series provides certified safety technology for applications up to SIL3.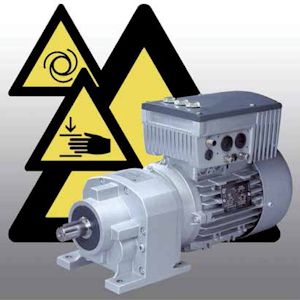 The Nord SK 200E inverter series provides certified safety technology for applications up to SIL3. (Image: Nord)
Operator safety is essential for plant operation. After a safety circuit is actuated by opening a safety cover or door, it must be ensured that no rotating system components can lead to accidents. However the high availability of machinery is also very important and a rapidstart-up after safety-related interruptions is essential for economy.
In spite of their cost-optimised design, NORD SK 200E series decentralised frequency inverters are equipped with various safety functions.
Depending on the switching device which is used safe shut-down method can be achieved for high risk categories according to Category 4 or Performance Level e as per EN 13849-1. While with conventional frequency inverters of this power class restarting of the motor was prevented with a complete switchoff of the 24V control voltage orthe mains voltage, the types SK 21xE and SK 23xE are equipped with a certified safe pulse block and have digital inputs for the functions "disable voltage" and "emergency stop". By this method the frequency inverters can implement Stop Category 1 (controlled braking of the drive unit compliant with SIL1) with subsequent torque switch-off (compliant with SIL3) or Stop Category 0 (corresponding to SIL3) in accordancewith EN 60204-1.
As the control and power electronics are not switched off on activation of the pulse block, the devices remain online and are immediately available again without re-initialisation once the safety circuit has been closed. As well as the high level of availability, the safety technology of the inverters has additional economic advantages: Circuit breaker components are not required and the electronic circuit for the safety function eliminates regular maintenance and the replacement of worn electro-mechanical contacts.