DAB's Most Recent Additions To Home Swimming Pool Pumps
10.12.2010
In the early 2000s, DAB turned for the first time to the swimming pool industry. The DAB pumps' technology and innovation allowed the Company to make a positive impact on the market, as evidenced by the results that document an increasing trend in DAB sales in this segment.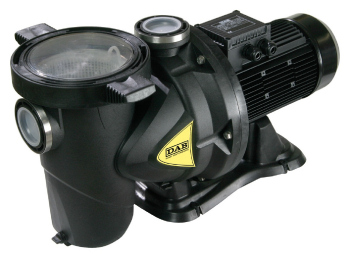 EuroSwim (Image: DAB)
Hence, the Company was stimulated to continually improve its products and broaden its selection of swimming pool pumps, from the early Jetcom SP and Eurocom SP, to the Vetry-Nova and the Nova Salt W, until the two most recent additions: Euroswim and Eurocover.
These two pumps provide efficient, innovative solutions to the market's needs thanks to their specific properties that optimize performance and make them flexible, simple and practical to use, features that are fundamental for reaching a concrete competitive advantage.
Euroswim
High-performance, self-priming centrifugal pump with built-in large-capacity prefilter. Completely watertight motor. Exceptionally silent and highly reliable, designed for the circulation and filtration of water in domestic and residential swimming pools. Also suitable for special applications such as the handling of aggressive liquids in fish farms, farming and industry.
Eurocover
Completely automatic submersible centrifugal pump with wide support base, designed to enhance its stability and its operation also in non-perpendicular positions.
Integrated float allows automatic operation. Efficient and maintenance-free. Suitable for use in wintertime on top of swimming pool covers, to remove rainwater and prevent the cover from breaking when too much water accumulates. If needed, it can be used as a submersible pump for emptying and draining operations or as a portable pump in case of emergency
DAB's entry in the swimming pool sector and the recent broadening of its selection of pumps with the Euroswim and Eurocover models, are a tangible sign of the strategic growth policy that characterizes DAB within the DWT GROUP.