Cylinder Cart Scale Provides Chemical Weighing for Multiple Locations with One Scale
Scaletron Industries, Ltd. has announced the addition of the Model 2308CS Cylinder Cart Scale. The new scale is designed to provide an economical, versatile solution for weighing chemicals used in water and wastewater treatment applications where it is advantageous to have a single portable scale that can be used in multiple weighing locations.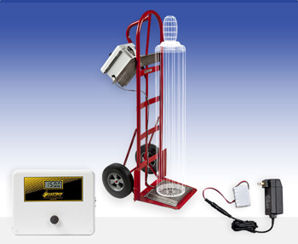 2308CS Cylinder Cart Scale (Image: Scaletron Industries)
Featuring a hand cart with integral weighing platform and digital LCD display, the scale is available in both electric and rechargeable battery powered versions and can weigh cylinders up to 9 inches in diameter and up to 349 pounds in weight.
"The Model 2308CS Cylinder Cart Scale is fully portable which means that one scale can be used to weigh cylinders at different locations or for different types of chemical feeding equipment," said Edward Dougherty, president of Scaletron Scales. "In addition, it is offered in a battery operated version, making it ideal for remote locations where electricity may not be available".
The Model 2305CS provides excellent accuracy of ± 0.5% of capacity and allows users to instantly weigh chemicals in either pounds or kilograms. To provide protection from corrosive chemicals, the electronics are housed in a NEMA 4X, UL approved enclosure.
Additionally, the Model 2308CS scale base features rugged stainless steel construction for use in harsh environments, while the portable hand cart (truck) features powder coated steel construction and 10" solid tires for ease of movement.
Scaletron's Model 2308CS Cylinder Cart Scale is designed to accurately measure weight of ammonia, carbon dioxide, hydrogen chloride, liquefied chlorine, sulfur dioxide and other liquid gases used in a variety of applications including wastewater, municipal, and industrial process water treatment.