Cutting-edge Pump Technology for Desalination Plants
Clydeunion Pumps is proud to present a comprehensive range of pumps for desalination plants covering all stages of the process from seawater pre-treatment to the distribution of produced water.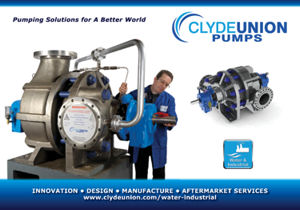 The Clydeunion Pumps HPRO High Pressure Reverse Osmosis is a radially split diffuser multi-stage pump designed to match the particular requirements of the desalination industry. In addition to superior efficiencies, the HPRO has numerous unique design features including:
Minimum through life costs along with maximum reliability in service
Optimised efficiency levels with hydraulics designed for each specific project duty
Extensive options for branch orientation: top-top, side-top, side-side opposing and sideside arrangements
Minimised foot print
Self-contained oil lubricated bearings eliminate the requirement and associated costs for lubricating oil module
Enhanced efficiency achieved through full radial diffusers, volute discharge and closed clearance composite wear rings
The HPRO pump offers customers a modern alternative, specifically designed for RO Desalination, to the traditional horizontal split casing high pressure BB3 product range.
Picture: The HPRO pump, a Clydeunion Pumps 2008 innovation specifically designed for Reverse Osmosis Desalination