Custom Configured Netzsch Pumps
Exton, PA, July 2003 — Established in 1873, NETZSCH has a proven history of manufacturing quality, innovative products for a wide range of industries. To meet the demanding needs of various processing plants and applications, NETZSCH NEMO® offers the largest variety of custom configured pumping solutions ranging in size from the industry's smallest metering pumps to high volume pumps.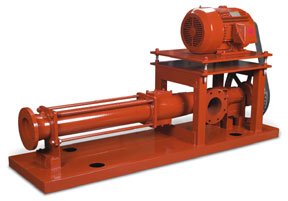 Every NETZSCH NEMO® Progressing Cavity Pump can be assembled using a modular system. A choice of different materials of construction, stators, universal joints, housings and seals is incorporated into this modular system, resulting in unmatched flexibility and versatility.
For installation space limitations, NEMO® Pumps can be assembled in Piggyback, L-frame, and Inline belt and drive arrangements. NEMO® also supplies a complete series of close coupled pumps ideal for a wide variety of applications where cost effectiveness is paramount, installation space is limited and delivery is critical.
With output capacities ranging from .022 to 2150 GPM, NEMO® Pumps have pressure capabilities up to 1000 PSI. They are available in a variety of models, including the SY/BY series with standard rotor/stator design, the SO/BO series with auger feed, the SP series with bridge breaker, plus quick clean SH/BH and immersible BT models.