Crompton Launches Energy Efficient Pumps to Fast Track Huge Energy Savings
Avantha Group Company Crompton (CG) launched a wide range of energy efficient pumps and SMS savvy devices to operate pumps for residential, agricultural, commercial and industrial applications. Pumps generally consume huge amounts of electrical energy and hence present a tremendous opportunity for energy savings.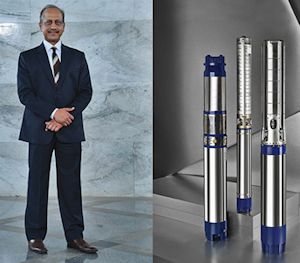 Mr. Ash Gupta, Executive Vice President and President, Consumer Business, with the recently launched CG Submersible Pump (Image: CG)
The intelligent microchip technology embedded in the GSM (Global System for Mobile Communications) Pump Controller and the Electronic Control Panels allow these pumps to be switched "on" and "off" remotely, through a mobile phone call or an SMS. They can also be programmed to send an SMS alert to the customers' mobile phones informing of any shutdown or power failure. Other value-added features are a voltage and current display and a protection from short circuits and overload.
For the residential customers, a choice of premium pumps namely Mini Pacific, Mini Masterplus, New Aqua Gold and Pressure booster were launched with special features such as higher performance, brass inserts and Cathodic Electro Deposition (CED) coating. In addition, few of these pumps come with a two-year warranty. Crompton's reliable, energy-efficient pump solutions work more efficiently, with greater precision and for longer periods. They also reduce electricity bills and require lower maintenance.
For the agricultural sector, Crompton launched four new premium submersible pumps. These are 4 inch and 6 inch pumps, 50 feet per stage, in stainless steel finish, and Vertical Open Well Submersible pumps. These products have incorporated a change in material construction from cast iron to stainless steel, so they are now corrosion resistant and abrasion free - an important feature required for submersible pump applications. The superior design of these pumps reduces power consumption and electricity bills.
For the commercial and industrial segment, Crompton launched the Vertical and Horizontal Multistage Pumps, suitable for high rise buildings. These pumps can raise water up to a height of 265 meters, at the desired pressure. The pumps are fortified with pressure boosters to maintain water pressure at the same level irrespective of the height at which the outlet is located.
Commenting at the launch, Crompton's Executive Vice President and President, Consumer Business, Ash Gupta said, "We are constantly researching with materials and new designs to increase the energy efficiency and lifespan of our products. The latest range of our pumps combine the elements of design, construction material and microchip technology to give our customers a world class, energy efficient, cost effective and reliable product."