Crane Co. Celebrates 150th Anniversary
Crane Co. announced the launch of its 150th anniversary web site. Founded in 1855, Crane Co. will turn 150 years old on July 4th, 2005.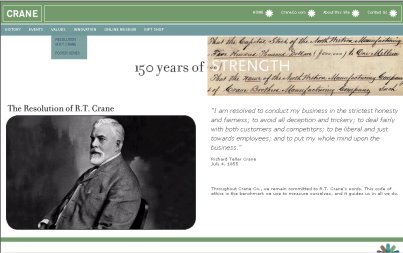 Have a look at www.crane150.com
The Company has planned a full year of events for employees to mark this milestone anniversary. It is proud to be able to share glimpses of its history with the general public through this 150th anniversary web site.
Crane Co. is a diversified manufacturer of engineered industrial products, celebrating 150 years of innovative solutions, quality products and growth. Crane provides products and solutions to customers in the aerospace, electronics, hydrocarbon processing, petrochemical, chemical, power generation, automated merchandising, transportation and other markets. The Company has five business segments: Aerospace & Electronics, Fluid Handling, Engineered Materials, Merchandising Systems and Controls. Crane has 10,500 employees in North America, South America, Europe, Asia and Australia.