Craft Health Uses ViscoTec Print Head vipro-HEAD in its 3D Printers
Craft Health Private Limited in Singapore, one of ViscoTec Asia's customers, uses the vipro-HEAD 5 print head for 3D printing of nutraceuticals and pharmaceuticals. Craft Health is a healthcare research and development company committed to 3D-printed personalized healthcare. When they were looking for an accurate and precise print head for the manufacturing of personalized tablets, they came across ViscoTec. The solution they needed had to comply to any regulatory requirement for manufacturing of nutraceuticals and pharmaceuticals.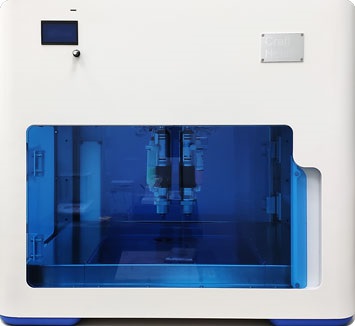 Outside view of the Craft Health 3D printer including the ViscoTec print head. (Image source: ViscoTec Pumpen- u. Dosiertechnik GmbH)
The ViscoTec print head vipro-HEAD convinced with its technology: With the endless-piston principle it is possible to achieve accurate and precise dosing of Craft Blends – a proprietary mixture of different GRAS excipients for 3D printing and various controlled release profiles.
Other advantages of ViscoTec are the stepper motor version in the print head, that allows easy integration to already existing gantry systems for 3D printing. Also, the wetted and non-wetted surfaces could be clearly separated and cleaned accordingly. To meet the requirements of the customer the wetted surfaces of the vipro-HEAD were customized and refabricated using SS316L material to comply with FDA regulations.
Dr. Seng Han LIM (Ph.D.), the Co-founder & COO of Craft Health, about working with ViscoTec Asia: "Melvyn Teo, the Managing Director of ViscoTec Asia, and his team, were open and supportive to new ideas on modifications to comply with any regulatory requirement for manufacturing of nutraceutical or pharmaceutical. ViscoTec Asia was also very prompt in technical or other administrative supports."
ViscoTec asked Dr. Seng Han LIM to answer some questions about the application:
Can you please describe your special application?
Dr. Seng Han LIM: "Our Craft Blends must be printed in the desired volume or geometry. Based on individual requirement of the active ingredient. We are using multiple print heads, and so the Craft Blends containing different active ingredient can also be combined onto a single tablet, depending on individual's requirement. Different Craft Blends can also be employed to control the rate of release of active ingredients into the body. Hence, a unique & personalized tablet can be 3D printed for the individual, considering the combination, type, dose, and release profile of active ingredients required. The end product is a personalized tablet for the individual, for both nutraceuticals and pharmaceuticals."
What are the challenges with your application?
Dr. Seng Han LIM: "The precision and accuracy of dosing during 3D printing is the main challenge due to the compressive nature of paste or semi-solids being used. With controlled extrusion and retraction function, the Vipro HEAD 5 allows precise and accurate dosing of the material being 3D printed, allowing the final product to be of high uniformity. Reusability of the print head is also difficult if the wetted surfaces are hard to clean or consist of materials that are reactive, absorptive, or additive. The limits of printing according to our experience in the past were the accuracy and the precision of dosing"
How did ViscoTec meet your requirements?
Dr. Seng Han LIM: "ViscoTec was totally open to the modification of the wetted surface materials of their 3D print head to an FDA compliant SS316L material. And the established endless piston technology allows us to achieve exactly the accurate and precise dosing of the printing material we have been searching for. So ViscoTec made it possible for us to get a print head that can comply with FDA requirements of being non-reactive, non-absorptive and non-additive on the one hand. And on the other hand, we received an accurate and precise print head for 3D printing of personalized tablets."