Cornell Pump Company Redesigns Website
Cornell Pump Company is proud to announce the launch of its revamped website.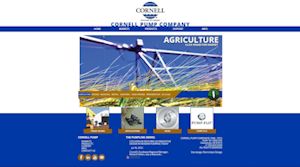 New Website at www.cornellpump.com (Cornell Pump Company)
This new website makes it easier to understand pump applications, find specific information about markets Cornell serves such as irrigation or mining, understand a product such as Redi-Prime or Cycloseal, or find pump curve data.
The new website also integrates a new marketing and branding approach—allowing the viewer to download brochures with the easy to understand market icons. The website also highlights postings from Cornell s web blog —there readers can peruse the latest news about conferences, new products, and Cornell activities, as well as sign-up for the newsletter.
"Our new website looks clean, and lends itself to easy usability," said Marcus Davi, Cornell Pump's Vice President of Sales "It is a step forward in our evolution to be even more customer focused, and I'm sure it will be well received by Cornell's distributors, customers, and partners."
We encourage everyone to sign up for our e-newsletter at the website, which is an easy way to keep up with news, product releases, activities, and trade shows. Through July 31, 2012 anyone signing up for the e-newsletter will be entered into a drawing for a free Kindle Fire. Current recipients of the e-newsletter are entered into the drawing as well.