Cooperation Between Bergmann Brauerei and KHS: United in Brewing Tradition
Dortmund's brewing tradition goes back over 750 years. Once one of the biggest beer capitals in Europe, the art of brewing has gradually waned in significance in the last few decades. Bergmann Brauerei has upheld the trade in the Ruhr metropolis since 2007, however – also with the help of KHS, another traditional company from this part of Germany.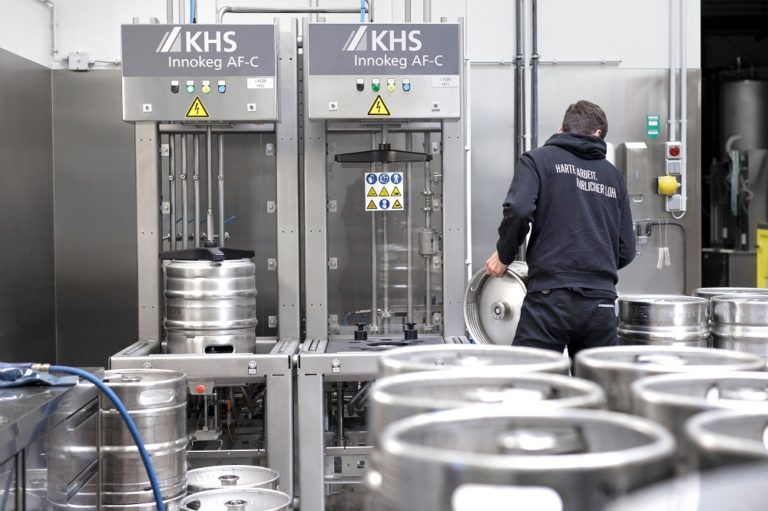 Efficient, hygienic and low on space: Bergmann Brauerei has benefited from its KHS Innokeg AF1-C1 since the end of 2020. The compact system is equipped with separate washing and racking modules for returnable and non-returnable kegs. (Image source: KHS Group)
At the end of 2020 the brewery invested in a KHS Innokeg AF1-C1 with a washing and a racking module for returnable and non-returnable kegs. The integrated ReDiS remote maintenance system ensures high machine availability and fast operator support.
Bergmann Brauerei's slogan of "hard work, honest reward" reflects the eventful history of this local traditional company. Founded in 1796, the brewery developed into one of the most popular beverage brands in the Ruhr metropolis. In 1971 Dortmund's Ritter Brauerei bought the business and just one year later Bergmann shut down its operations – until 2005, when microbiologist Dr. Thomas Raphael procured the trademark rights and again fired up the tanks. Since then, the brewery has experienced a steep upwards trend. In 2017 construction of a new brewery complete with its own pub was finished. Ten styles of beer are produced here, from strong beer through pilsner to dark and export beer.
Cult brewery and traditional Dortmund company
The popular beer brand is chiefly available from retailers and at a few in-pubs in the Ruhr area. Bergmann's own kiosk, established in 2013, quickly became something of a cult venue and even features in regional travel guides.
When it came to purchasing equipment for his new brewery, Raphael opted for an Innokeg AF1-C1 keg washer and racker from his neighbor KHS. Just a few kilometers apart, the two companies have been in close contact since 2015. "The local proximity of KHS is of course ideal. Ultimately, it was the technology of the new kegging system that had us convinced, however," explains Raphael. "It's compact, efficient and has a very high standard of hygiene."
High quality standards, great flexibility
With its new kegging module the brewery fills up to 35 stainless-steel kegs per hour. Thanks to its space-saving design, the machine easily fits into the small brewery. It also provides more independence and flexibility. "We can now rack beer on our premises in a very short time indeed and thus quickly react to increases in demand. This is a great advantage," Raphael smiles.
KHS was also able to convince Bergmann Brauerei when it comes to service. The turnkey supplier has trained the brewery's personnel so that they are able to perform minor maintenance work and do any possible repairs themselves, among other things. This is why the brewery has gone for KHS' ReDiS remote maintenance system. With the tried-and-tested Remote Diagnostic Service the brewery has access to technical support at all times, even without KHS employees having to be on site. And should the need arise for more complex assistance, KHS is just around the corner.