Considering the pH Value Is Important for Pump Material Selection
The pH value is an international scale, ranging from 0 to 14 which indicates the acidity of a liquid. This value is an important factor to consider when selecting the right pump. The acidity of the liquid determines the corrosion reaction of the material and therefore the service life of the pump.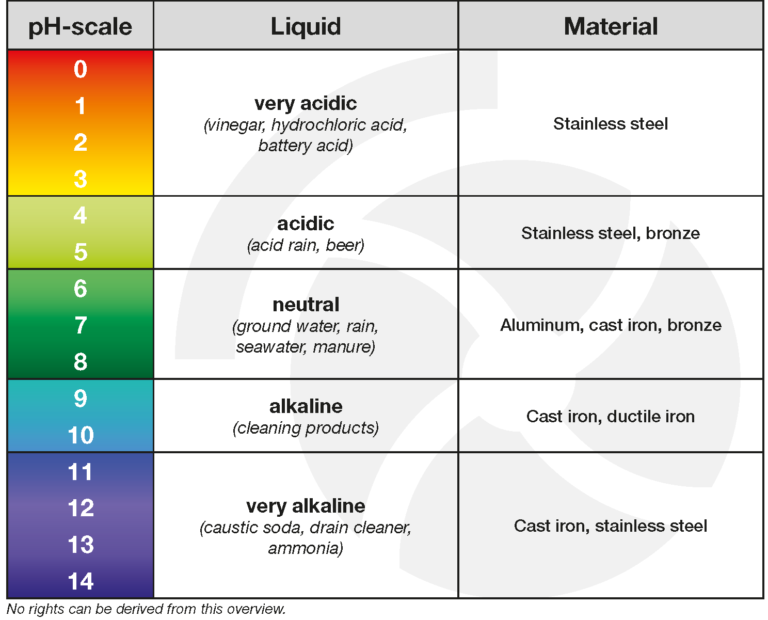 Overview of material selection based on pH scale (Image source: BBA Pumps BV)
Other factors which also need to be considered are temperature, oxygen and the chloride content.
Generally speaking; when the pH value decreases, the acidity increases and with it the corrosion reaction. Further, the higher the temperature or chloride content of the liquid, the higher the rate of corrosion.
The most common pump materials:
Cast iron can be used for liquids with a pH level of 5.5 to 14 (provided the chloride content <200 ppm).
Aluminum bronze is corrosion resistant and well suited for pumping seawater and liquids with a low pH level from 4 and upwards.
Stainless steel 316 can be used for the entire pH range from 0 to 14 (provided the chloride content <500 ppm).
Silicon Carbide has a good chemical resistance and is suitable for seawater and liquids with a pH level from 0 to 14.
Customized advice and safety first
Selecting the material for a pump based on the pH scale does not guarantee a corrosion-free solution. BBA Pumps has a materials compatibility guide available for pumping a range of different chemicals. This allows them to accurately determine the most suitable material for a pump.
There are other additional options for extending the life of a pump. For liquids with a high chloride content, they recommend providing the wet parts of the pump with an epoxy coating. This layer of coating protects the pump for a long time and in many cases also increases the pump efficiency by a few percent.
Safety first. During pump maintenance or a pump overhaul, it is important that the technician knows the pH value of the liquid that has been pumped. Strong acids and alkaline substances can cause burns and inhalation of chemicals can cause irritation to the respiratory tract. Care must be taken to ensure that the pump is always repaired by an authorized service company and that the technician is informed about the liquid that has been pumped before starting the repair work.