Compact Analytical Pumps for Precision and High Pressure
A range of extremely compact gear pumps which are designed to meet the increasing demand for pumps that provide very precise dosing and metering in the micro-litre and milli-litre ranges, are now available from Michael Smith Engineers.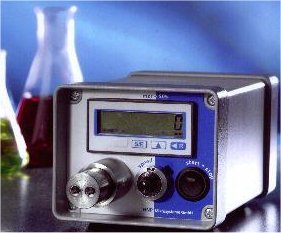 Micropump MZR positive displacement gear pumps deliver pulse-free, smooth flows from as low as 0.15 ml/min up to 280 ml/min and can generate very high differential pressures of up to 80 bar, depending on the viscosity of the fluid.
These pumps, which can handle liquids with viscosities as low as 0.5 cp and as high as 50,000 cp (depending on the model), are ideally suited to precision liquids transfer applications, such as those in laboratory, analytical instrumentation, process technology, medicine and biotechnology applications. With a wide choice of AC and DC drives, MZR pumps are ideal OEM applications. The smallest units are only 13 mm diameter by 75 mm long.
Micropump MZR pumps incorporate precision components in tough materials such as tungsten carbide and ceramics, which ensures the dual benefits of optimum performance to any accuracy of ±1% and maximum resistance to wear. Also, they are self-priming thanks to their valve-free construction with low clearance volumes.
Applications for Micropump MZR pumps have included automated sampling systems for analysing blood, pumping non-lubrication liquids in fuel cells, pumping liquids with particles in online paint mixing machines, micro-dosing to coat blood samplers and metering high viscosity liquids when adding glucose solutions in dog biscuit production.