CombiPro Centrifugal Pump System for True Flexibility
In industries that use substantial volumes of centrifugal pumps on a single production facility, being able to standardise on one pump type is an economic proposition when it comes to stocking spare parts and maintenance.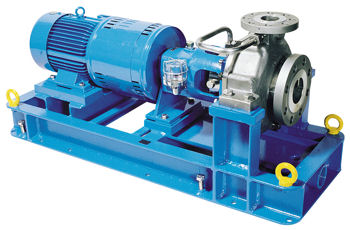 SPX ® Johnson Pump CombiSystem (Image: SPX)
The SPX Johnson Pump CombiSystem is modular programme of single stage centrifugal pumps that gives a high degree of interchange ability of parts between different pump constructions and contains models that satisfy the requirements of all types of production facilities.
The Johnson Pump CombiPro is a horizontal centreline supported pump designed for handling all types of low viscosity, clean and slightly contaminated liquids, and has been developed and constructed to satisfy the latest API 610 requirements. In terms of performance, the CombiPro will operate at pressures up to 35 bar, temperatures between -30ºC and +350ºC and has a flow capacity of 350³m/hr.
This highly versatile pump is available with a choice of closed and half-open impellers. The closed impeller contains back vanes that ensure a good circulation of flushing liquid and minimise the risk of contamination of the shaft sealing environment. The alternative half-open impeller consists of a profiled front wear plate mounted in the pump casing and a front plate-less impeller running against the wear plate with a narrow clearance. This is easy to clean if the pumped liquid adheres to the internal surface of the impeller.
In designing the CombiPro, SPX has given considerable attention to the sealing arrangement. The seal chamber will accommodate all types of seals, in particular API 682 cartridge seals. The multifunctional pump cover and the integrated design of the pump, base plate and accessories enable the use of standard constructions for all API 682 seals. For sealless applications, the CombiPro can be equipped with a magnetic coupling in accordance with API 685.
All CombiPro pumps are assembled as complete units on a sturdy API 610 designed base plate containing reinforced pedestals, flanged drain pan and bracket support. This modular concept allows the optimum base plate configuration for each pump/motor combination to be selected by computer and assembled from standard components. In addition, the rigid construction extends the duty life of bearings and seals, providing trouble-free operation under severe process conditions.