Colfax Presents Allmind and All-Optiflow
Colfax Fluid Handling has exhibited new products Allmind (pat. pending) and All-Optiflow (proprietary) at the Achema trade fair in Frankfurt, Germany.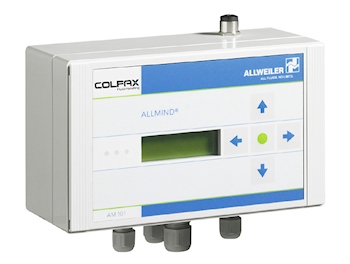 The "AM 101" Master Module is the central "brain" of the new Allmind pump monitoring, diagnosis, and control system.
Both products are designed to help drastically reduce operating, maintenance, and energy costs for the operator.
Allmind is an intelligent system that monitors all types of pumps and can help dramatically reduce expenses for day-to-day operations, maintenance, and energy. At the same time, Allmind helps to improve operational safety. Precise control afforded by the system helps the pump achieve the desired operating point. Allmind requires only a standard frequency converter. Allweiler s proprietary algorithms provide all necessary control information.
Allmind is comprised of interchangeable modules, giving the system the flexibility needed to adapt to highly individualized processes. The system offers the ability to handle everything from relatively simple condition monitoring to sophisticated monitoring and control activities involving multiple pumps. And it does it all with a single unit. The system can monitor pressure, temperature, leakage, vibration, and output as well as activate PID controllers. Each pump can be individually equipped with speed control. Use of Allmind can increase system availability and helps avoid unplanned production downtime. The system stores all sensor values and makes them available for evaluation purposes.
The All-Optiflow series employs a variety of innovative design details that help reduce energy consumption as well as costs for maintenance and spare parts. These progressing cavity pumps exhibit a high power density that can lower energy costs by up to 15% compared to conventional PC pumps. Stub shaft diameter is approximately 30% smaller than conventional pumps, reducing friction by nearly 50%. Other examples include redesigned pumping elements with higher power density, low-friction rotors and shaft seals, and stators with a special surface.