Colfax Fluid Handling Introduces New Version of the Smart Technology CM-1000 Series
Colfax Fluid Handling will introduce and demonstrate the latest version of the company's Smart Technology CM-1000 Series smart controller for seawater cooling systems.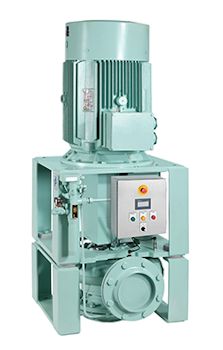 CM-1000 module on a seawater pump of the Allweiler MA series. (Image: Allweiler GmbH)
The CM-1000 adjusts the flow rate of sea water pumps based on the temperature of the ship s fresh water and current cooling requirements, thereby saving significant energy. New features include turnkey and ready-to-install solutions, sending of monitored parameters to Windows PCs, optional exclusion of a standby pump, complete shutdown of the pumps, and monitoring of the status of the cooling system.
Designed to help maximize shipboard pumping efficiency, the CM-1000 Series assist in reducing operating costs while maximizing uptime. Application of the CM-1000 Series to sea water cooling systems has demonstrated energy cost savings of up to 85% and sea water pump maintenance costs by up to 50%. In addition to exclusive valve control, new functions and installation options will be on display at Nor-Shipping.
"Bridgeview" that sends data from the cooling system and its pumps to a computer making it easy to record and analyze trends in temperature and motor data. New functionality that allows the crew to exclude the standby pump in 3*50 cooling systems from monitoring and control, eliminating the need for the converter and cabling. If one of the operational pumps fails, the CM-1000 can sound an alarm and the standby pump can take over. New capability that can allow the CM-1000 to shut down the pumps completely if the ship is at a standstill or steaming only slowly in a cold environment, providing significant energy savings. Cooler Clogging Supervision monitors cooler status to assist the crew in planning and maintaining the cooling system.
Additionally, ship owners and operators can now choose between two installation options: Turnkey installation by the Colfax Fluid Handling, involving approximately one week for complete installation, depending on the ship s timetable or a complete turnkey Cabinet Solution that includes complete switch cabinets and frequency converters. This solution requires only wiring on the ship.