Colder Introduces New Dual Containment Flare Nut and Fitting
Colder Products Company (CPC), the leading provider of controlled performance connections, introduces the ChemQuik® Dual Containment flare nut and panel mount flare fitting, ...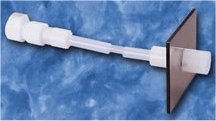 ...new accessory items that facilitate the "double containment" of chemical handling fluid lines between a coupling or fitting and a Chemical Dispense Unit (CDU) or pump.
CPC's new Dual Containment panel mount fitting features a unique weep port to relieve the pressure that can build up between the primary and secondary tubing in the event of a leak or if chemical media permeates through the primary line over time. Both the nut and the fitting are suitable for all rigid PFA, FEP or other fluoropolymer tubing commonly used in semiconductor "we process," pharmaceutical and industrial applications.
"CPC's new ChemQuik® accessories provide a simple yet effective solution to increase safety for operators who handle caustic chemicals," said Thomas Braun, Business Unit Manager, Packaging, Dispensing and Chemical Handling, CPC. "No other product on the market offers our unique weep port to prevent pressure build up and potential line breaks."
Aggressive and hazardous chemicals such as nitric or hydrofluoric acid can permeate PFA, FEP, and even PTFE primary tubing over time. In the event of a primary line leak or rupture, fluid pressure build up between the dual containment lines can also cause the secondary line to rupture or break. This can occur particularly when the secondary line has a thin wall corrugated or convoluted tubing design for enhanced flexibility. The CPC panel mount Dual Containment flare fitting eliminates fluid pressure build up and line rupture by allowing media between the lines to vent through a weep port. This drastically reduces the possibility of operator or costly equipment exposure to caustic chemicals should the secondary line rupture or the chemical leak.
The ChemQuik® Dual Containment flare nut and fittings can be used with any ChemQuik® coupling or standard fine-threaded flare fitting such as a Flaretek® fitting, to add secondary containment to a PFA, FEP or PTFE line. No modifications to the coupling or fitting are necessary.
The Dual Containment flare nuts and panel mount fittings are available in line sizes of 1/4, 3/8, 1/2 and 3/4 inch OD. Standard materials are natural virgin polypropylene with a PVDF secondary flare nut. Size and material can be customized according to specific applications. CPC's ChemQuik® Dual Containment nuts and fittings are manufactured in a clean environment and double bagged in Class 100 anti-static clean room bags.
About Colder Products Company
Colder Products Company (CPC) is a leading provider of controlled performance connections in industrial, biopharmaceutical, medical chemical and packaging markets. For a free catalog or more information, please visit the web site.