Chromium Impellers at Tsurumi
Pump manufacturer Tsurumi is equipping several pump series with ultra-hard chromium impellers free of charge. Once again, Tsurumi wants to define the standard in the market. The Japanese company with its European headquarters in Düsseldorf, Germany, is manufacturer of dewatering pumps for the construction industry.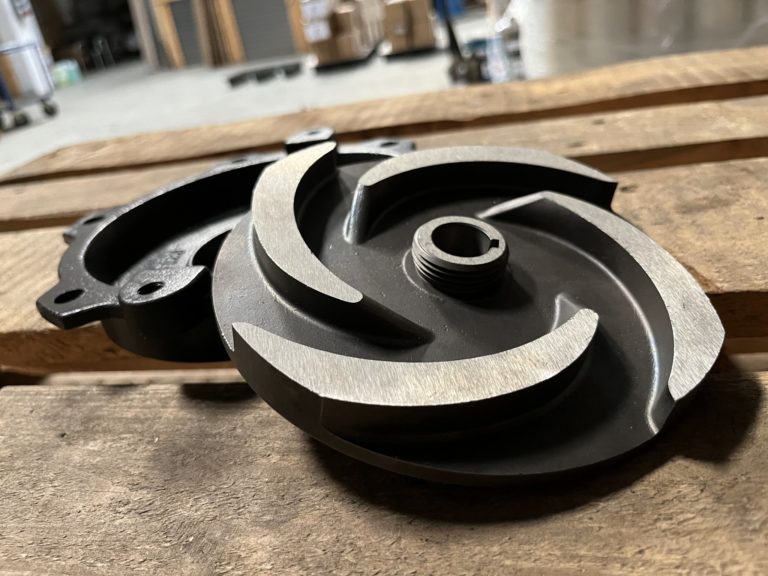 Extreme hardness: Tsurumi equips its pumps with chromium impellers (Image source: Tsurumi (Europe) GmbH)
Hard as a Katana sword
The impeller is the pump's propeller, so to speak. It is located on the shaft at the intake opening and "shovels" the water into the unit. Enormous forces act at this point. They are caused by the high rotational speeds and abrasive sediments in the water. Tsurumi even tolerates hard rock up to 30 mm grain size at a flow rate of up to 12 tonnes per minute in the chromium equipped pump models.
The high chromium content of up to 28 per cent makes the impellers extremely wear-resistant. The material is five times more resistant to abrasion than grey cast iron or stainless steel, the manufacturer said. Tsurumi gives exact specifications: The hardness according to Rockwell, the internationally used unit of measurement for technical materials, is 51. For the pumps of the GY series it is even 60.
This puts the Tsurumi impellers on a par with the legendary Japanese Katana blades, a reference in terms of hardness and cut resistance.
Vortex impeller plus wear plate
Tsurumi always uses semi-vortex impellers. In combination with its wear plates, the manufacturer achieves hydraulic efficiency levels similar to that of closed impellers - without their disadvantages. Another plus: by readjusting the wear plate, the optimal pressure point of the pump can be set even when the abrasion is already far advanced. The impeller can thus run significantly longer. This reduces the costs and maintenance times of the pump.
In Europe alone, the manufacturer offers more than 500 pump types with flow rates up to 30 cbm/min and 216 m maximum head. "Stronger for longer" is the marketing slogan of the company, which was founded in 1924 and specialises exclusively in water pumps. Find out more at Tsurumi.eu on the internet.