CHRIST Wins Major Municipal Desalination Orders
Aqua Engineering GmbH, Mondsee, competence centre for municipal water treatment and seawater desalination of the Christ Water Technology Group, is awarded two major orders thus extending its already strong market position in desalination technologies.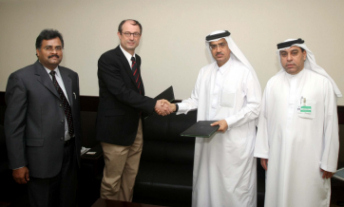 S.Lakshmanan, Managing Director von TECTON HL, Dr. Hannes Laimer, Aqua Engineering, Mohamad Saleh, General Manager, FEWA, Mohamad al Shamsi, Director Communication, FEWA
The first order with a total value of USD 38 million was received from the Federal Electricity & Water Authority, United Arab Emirates, to Aqua Engineering together with a local partner. The share of Aqua Engineering is USD 22 million. After a period of construction of two years, the technically sophisticated plant with a daily capacity of 32,000 cubic metres will be supplying 150,000 inhabitants of the Emirate of Ajman on the Persian Gulf with high quality drinking water according to the regulations of the World Health Organisation.
The second order of EUR 9 million comprises design and delivery of the electrical and mechanical engineering for two Reverse Osmosis desalination plants with a combined capacity of 10,000 cubic metres per day for a project of the National Organisation for Potable Water and Sanitary Drainage, Kairo, Egypt. After completion, the plants will supply the cities of Rafah and El Zowayed on the Mediterranean Coast of Egypt with first grade drinking water.
Both projects were awarded thanks to the state-of-the-art technical concepts including highest energy efficiency and best environmental scores. Based on the long term experience and realisation of a high number of successful projects, Aqua Engineering plans to continue to seize future opportunities in the growing market of seawater desalination.