Chopper Pumps meet the Challange of Corrosives
The variety of waste handling applications which present specific challenges to pumps and pumping systems are many and varied although the aims and objectives (however tough the challenges) are usually the same; safe and reliable pumping 24/7 with minimal maintenance.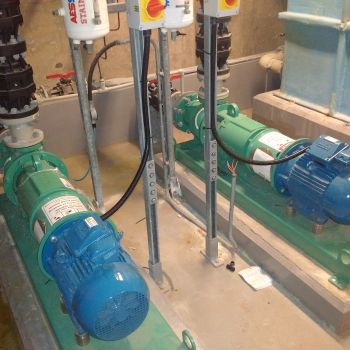 P & M Pumps
Aggressive fluids, such as corrosives occur in many applications and a good example of where these have been pumped safely and efficiently with impressive reliability over many years is at a APHA (Animal & Plant Health Agency) research laboratory facility in Surrey, now sponsored by DEFRA.
Vaughan Chopper Pumps were first supplied and installed at the research laboratory in 1997 by the Huntingdon based UK distributor, P&M Pumps. The pumps were CD4 Duplex (hardened) stainless steel pumps, fitted with special double mechanical seals in Hastelloy C and Kalrez construction. They also featured an external fluid barrier system due to the highly corrosive nature of the chemicals being handled, for example Sodium Hypochlorite with a concentration ranging from 15 to 20%. The pumps are typically handling flow rates of 18 M3/hr at heads up to 5 metres and are powered by 7.5 Kw motors running at 1450 RPM.
Other than routine maintenance the pumps have proven to be extremely reliable over a long period. Furthermore, with the APHA research facility having invested in modifications and upgrades, P&M Pumps are delighted to have recently supplied additional Vaughan Chopper pumps at the laboratory.