China Will Spend $8.5 Billion for Pumps This Year
Pump sales in China will reach $8.5 billion in 2014. This is the latest forecast in the McIlvaine Pumps World Market report.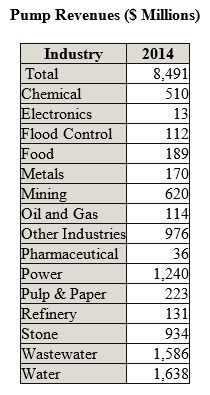 Pump Revenues ($ Millions) (Image: McIlvaine)
Over $3 billion will be spent by municipalities for wastewater and drinking water plants. The continuing population shift to the cities, the higher standard of living and increased expectations are driving infrastructure expansion.
The pump expenditures by power plants will exceed $1.2 billion. There will be an addition of more than 50,000 MW of new power plants this year. In addition, there will be some retrofits of flue gas desulfurization (FGD) systems. These systems have large pump requirements. A big effort to reduce NOx is resulting in a market for ammonia pumps.
The chemical industry is growing thanks to both international and domestic investment. Mines will spend over $600 million for pumps for use in China. It is also significant that Chinese companies are influencing pump purchases in Africa and South America.