Chemsteel – The New Solution for Gear Pumps
Chemsteel provides new options for pump designers by offering a large range of body materials, gears, bearings and seals or seal-less designs.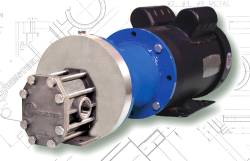 Chemsteel Mag Drive Pump
Designers can choose for example a Ryton(PPS) body which is less expensive and suited for temperatures under 90 degrees celsius. For other fluid temperatures or conditions either Stainless Steel or Alloy C bodies are available. Chemsteel is able to stand flow rates from 0.5 to 100 l/m at pressures up to 10 bars. Due to 15 shaft and seal options, which include packing, mechanical seal or magnet drives for sealless constructions, almost all types of chemicals can be handled. Motor mountings can be realized either by using bare shafts or IEC flange connections for direct mountings. Other gear pumps of this range can handle up to 550 l/min
and are made of bronze or cast iron.
The complete range will be presented at the Achema Fair, May 2003.
Chemsteel is manufactured by Oberdorfer Pumps, world leader in supplying gear pumps. Sales and services are carried out by qualified pump distributers in the European market.
All those who are interested in the new range can recieve a power point presentation by email. Just contact:
pumps@ese.tc
ESE
Box 1017
Oegstgeest Holland 2340ba
Fax 31 20 5241506