Chemineer MR Agitators Are Engineered for Reliable Performance and Value
Chemineer MR Agitators are reliable performers for a broad range of fluid mixing applications in the chemical, biodiesel/ethanol, pharmaceutical, water & wastewater and general fluid processing industries.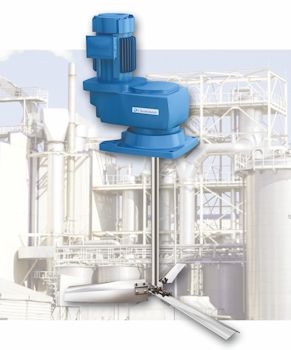 The modular design of the Chemineer MR Agitators is well-suited for a variety of mixing applications. With a proprietary, parallel-shaft, helical gear design the Chemineer MR Agitators feature a minimum 50,000 hour L10 bearing life and an oversized output shaft for optimal performance and extended service life.
The Chemineer MR Agitators feature:
A larger output shaft straightened to exact tolerances with high capacity tapered roller bearings to eliminate deflection and excessive vibration and lower maintenance costs
Rugged cast iron housing that features a double lip seal to effectively contain lubricant
Compliance with AGMA, OSHA, ANSI, IEC, DIN, EU and ATEX standards and requirements
A variety of seal options
Swing out mechanical seal change design to save maintenance labor and reduce downtime
The availability of Chemineer custom pedestals, couplings, impellers, shafts and steady bearings
The capability to be mounted to support beams or similar structures for open tank operation or to pedestals, plates or flanges for closed tank operation
Picture: Chemineer® MR Agitator (Image: Chemineer)