Chemical motor pump unit type BN
JESCO Dosiertechnik, one of the leading manufacturers worldwide of components, systems and accessories of metering, conveying and measuring & control technology for water and waste water treatment introduces its chemical motor pump unit type BN.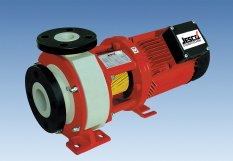 Chemical motor pump unit type BN (Source: JESCO)
BN-type mortor pump units are single-stage, normal priming centrifugal pumps with horizontal axis. They are available in all common plastic materials and for volumes of up to 10 m3/h at up to 65 meters of head.
The pumps of this series were developed to meet the requirements of the chemical industry and are therefore especially suited to pump pure or solid matter containing, acid or alkaline, low-viscosity liquids. They are manufactured according to the German/European Standard 22858 and the International Standard ISO 2858.
All wetted-end parts are made of high-quality materials and can be adapted to the specific requirements of the customer.
The pump housings are available in PP and PVDF as standard materials as well as in PE and PVC as special materials. The sturdy construction ensures a smooth and vibration-free operation.