Chem Mini – Gear Pump for Fine Metering Tasks
At Achema 2012, Witte Pumps & Technology GmbH presented the new Chem Mini gear pump generation.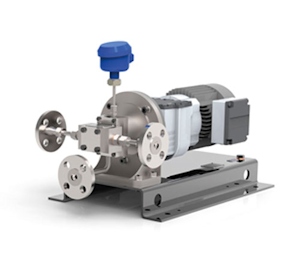 Chem Mini (Image: Witte Pumps & Technology GmbH)
The Chem Mini gear pump is particularly suitable for precision metering tasks of low to medium viscosity media. The range covers low flow applications in classic transfer and metering tasks for all industries.
Decades of experience in design and an optimum selection of materials, make this type of pump suitable for even the most demanding tasks.
For particularly critical applications, such as in the promotion of explosive, toxic, flammable or in the atmosphere crystallizing media, the Chem Mini could be supplied with a magnetic drive.
The Chem Mini handles fine metering tasks with high precision. Currently the smallest available pump has a specific volume of 0.2 cm3/rev. Smaller pumps are available upon request.
Many different materials are available for housing, gears and end plates.
The Chem Mini can also be offered as a heated version. The heating is done for example by heating cartridges. The current series is offered in sizes from 9/5,5 (0.2 cm3 / U) to 14/28 (2.95 cm3/U) and can be used by temperatures up to 300 °C are used.