Changes in the Management Board of Burgmann Industries GmbH & Co. KG
With effect as of 1 July, 2005 Professor Elmar F. Baur (64), until then CEO of Burgmann Industries GmbH & Co. KG, Germany, left the Management Board and joined the company's Supervisory Board. The company will be headed in the future by the...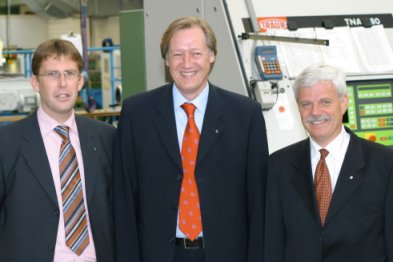 Fltr: Jochen Strasser, Christoph Mosmann, Dr. Walter Steinbach (photo: Burgmann Industries).
...three previous managing directors, namely Christoph Mosmann (43), Dr. Walter Steinbach (54) and Jochen Strasser (39). Christoph Mosmann took up the position of the Speaker of the Management Board as from 1 July 2005. His sphere of responsibility covers the worldwide Sales and Service Organization, the focus of Dr. Walter Steinbach's attentions are on the Mechanical Seals Product Division, production, R&D, design and application technology, and Jochen Strasser is in charge of the areas of Finance, Controlling, Auditing and IT Coordination.
Sales achieved by Burgmann Industries GmbH & Co. KG in 2004 were 5.75% up on the previous year. Consolidated group sales rose to around €315 million in 2004, 65% of which were accounted for by business outside Germany and 35% by domestic business. Domestic sales rose to around €110 million as against €96.7 million in 2003, and sales abroad increased to €205 million as against the previous year's €201.5 million.
The group currently employs a workforce of over 3200 throughout the world at over 50 subsidiaries and joint ventures. For this year, Burgmann Industries is aiming to increase sales by 7% in spite of the tough economic environment. From basic stuffing box packings right through to high-tech seals, Burgmann offers its customers worldwide a perfected and comprehensive range of products that is rounded off by the modular "Total Seal Care" service offering. This means that customers can be given a service package tailored to their specific needs and requirements.
The acquisition of the company by Freudenberg, the Weinheim-based family-owned company group, laid the foundation for the alliance between Burgmann and the Freudenberg partner enterprise Eagle Industry. Under the name "EBI (EagleBurgmann Industries) – the worldwide alliance for sealing technology", the two companies form the basis for a highly promising worldwide collaboration. "Both parties have been considerably strengthened in terms of their competitiveness in the future, and now constitute one of the world market's leading providers of sealing technology", said Christoph Mosmann, Speaker of the Management Board. Decisive success factors in this respect are worldwide presence, market-orientated products and a high-quality service spectrum.
Freudenberg is a family-owned company that sees itself first and foremost as a Technology Specialist and supplier to various branches of industry. With 170 production and sales locations in 53 countries and its business partnerships, the company is present on all of the world's major markets. Consolidated sales are well over 4 billion Euro and the company employs 32,000 people worldwide.