Change in Management for the Netzsch Group
CFO Dr. Hanns-Peter Ohl left the company at the end of the year on the best of terms. The company thanks Dr. Ohl for the outstanding achievements he has made for the Netzsch Group. Jens Niessner has taken on the role of CFO on an interim basis.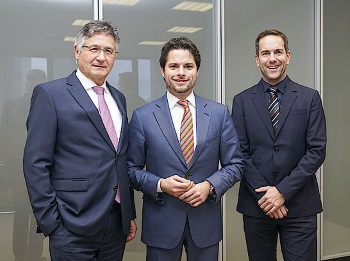 left to right: Dietmar Bolkart, Moritz Netzsch, Jens Niessner (Image: Netzsch)
"Dr. Ohl has provided exemplary support for the development of our company in recent years and has made a decisive contribution to the current and future growth and well-being of our company. We wish him all the best for the future and continued success," said Managing Partner Moritz Netzsch.
With immediate effect, Jens Niessner, Managing Director of Netzsch Pumpen & Systeme GmbH, Waldkraiburg, will take on the role of interim CFO of the Netzsch Group until the position is permanently filled.
Jens Niessner (45) has been with the company since June 1, 2007, initially as Head of Finance Business Unit Pumps & Systems, since January 1, 2010 Member of the Management of Netzsch Pumpen & Systeme GmbH in Waldkraiburg and since January 1, 2012, along with Felix Kleinert, as Managing Director of Netzsch Pumpen & Systeme. Jens Niessner holds a degree in business administration. Among positions held prior to joining Netzsch, he spent three years as CFO of Orgo Thermit USA, New Jersey.
Moritz Netzsch will be taking over the duties of Managing Director-colleague Dietmar Bolkart. With the 34-year-old mechanical engineer, a member of the shareholder family has been at the helm of the Netzsch Group for a year now. Moritz Netzsch has gained international experience in renowned companies and has prepared himself intensively for his role as new Managing Director for the past year.
The change in personnel has no impact on the chosen course and strategic objectives of the Netzsch Group, which again expects a successful and economically stable Fiscal Year 2018/19.
"We are maintaining continuity and, with Dietmar Bolkart, we have an experienced managing director at our side until further notice. He ensures the transfer of management and is available in advisory capacity," stressed Moritz Netzsch. "In order to successfully master business requirements and the generational shift in our family business, we rely on trust and reliability."