CFturbo Announces New Product Release
CFturbo announced immediate availability of its latest product, CFturbo 10.4. The new version can be used to design axial, radial and mixed-flow pumps, fans, blowers, compressors and turbines, as well as for diffusers, stators, return channels and volutes including secondary flow path modeling.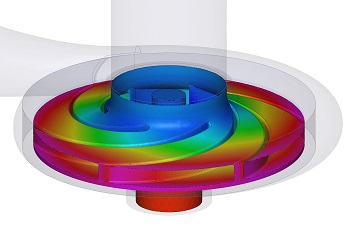 Radial Pump (Image: CFturbo)
New features include a bi-directional, parametric integration into ANSYS Workbench, elliptical cross-section shapes for volutes, export interfaces to Parasolid and hyperMill, a direct path to the Coolprop library for real gas behavior, easier access to parametric batch mode optimization, and numerous other enhancements.
Ralph Peter Mueller, President of CFturbo, said, "In addition to better turbomachinery design capabilities, we have upgraded our software with an improved solution for fast, accurate, cost-effective and user-friendly 3D-flow-simulation. With CFturbo SMP customers get realistic results that compare accurately with multiple field tests on various types of turbomachines. It provides users with the confidence to design excellent geometries before building and testing physical prototypes."