CFturbo 9.1 – A New Version of our Turbomachinery Design Software
CFturbo Software & Engineering GmbH a German engineering company specialized in CAE consulting and software development for Turbomachinery components and -systems, will bring a new software version of its user-friendly Turbomachinery design platform CFturbo to the market in autumn 2012.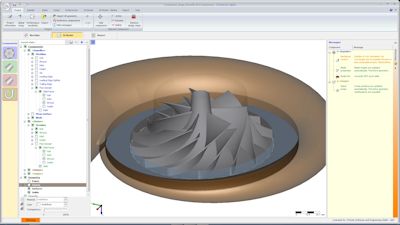 CFturbo Software & Engineering
The new release CFturbo 9.1 can be applied for conceptual design of radial and mixed-flow centrifugal pumps, fans, blowers, compressors and turbines, as well as vaned and un-vaned diffusers, return channels and volutes. Direct interfaces to all major standard CAD- and CFD-systems are available. The automation of CAE-workflows is supported for various related software packages or it can be customized on request.
Ongoing software development does include new topics such as design of axial turbomachinery and the integration of an established software solution for the cutter path calculation and simulation of milling processes.