Caprari's New Sales Management
The Sales Management changed hands during the Sales Meeting for Italy, which took place in Caprari's offices of Modena last 21 and 22 September.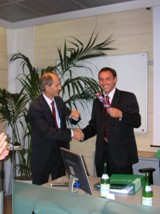 Caprari, Italy.
Dr. Alfredo Mantovani, to whom Caprari extends its warmest thanks after 38 years of enthusiastic and totally dedicated work towards innovation, leaves the Sales Area in the capable hands of Dr. Luca Pellegrini.
A new cycle has begun for Caprari.
With the help of a manager who possesses sound international experience, Caprari continues with a glimpse towards the future and the keen determination to attain its principal goal: customer satisfaction.