Caprari Quality Goes to China
On 11 May 2010 in Shanghai, Caprari confirmed its conviction of the huge potential of the Chinese market by inaugurating Caprari Pumps Shanghai Co. Ltd., just a little to the south of the Shanghai-Pudong international airport.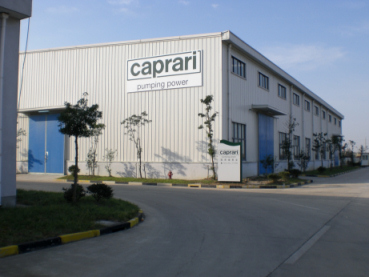 Caprari Pumps Shanghai Co. Ltd.
This enterprise was established for the purpose of directly supplying the Chinese market with Caprari's products and after-sales service, which are appreciated world-wide.
Thus, Caprari Pumps Shanghai has been created as a center of excellence where forefront products of the very highest quality will be made. Equipped with the most modern manufacturing and testing technologies, this undertaking fully conforms to the high quality standards for which Caprari is well known throughout the world.
The production lines, quality control, the department where tests are conducted in accordance with ISO standards and the logistic management division are all housed in an ultra-new factory covering 3500 sq m.
The new "Modular Pump Lab", where the electric pumps are subjected to hydraulic and electrical tests, has been designed according to the modular principle and is an absolute innovation for the sector. The laboratory is like a real control room and is equipped with the most modern measuring and testing instruments for pumps and electric pumps. The fact that it can be expanded by modules as to its electrical and hydraulic testing capacities, makes Caprari's "Modular Pump Lab" truly unique.
The first products manufactured by the new enterprise are dedicated to wastewater applications for the local Chinese and Asian markets. Moreover, Caprari Pumps Shanghai will enlarge its business scope and contribute towards the Group's supply chain with high quality components for products to be sold on the global markets.
The decision to place the quality of its products and services at the disposal of the Chinese market, so dynamic and aware of the precious value of water, was considered to be a strategic policy by the Caprari Group. In actual fact, China is investing a great deal in environmental improvements, and the accent is on products with a low energy impact.
The most important authorities from the Nanhui - Pudong district, who were present at the inauguration of Caprari Pumps Shanghai held on 11 May 2010, voiced their congratulations for the advanced manufacturing technologies and professional competence of the technical and sales staff.
Caprari Pumps Shanghai also exhibited with its stand at IFAT CHINA. This event, which was held from 5 - 7 May 2010, is the most important trade fair in the Far East dedicated to technologies for the environment and purification treatments. The innovative and highly energy efficient K+ (plus) and K-Kompact pump series with their proven reliability in heavy duty conditions, aroused great interest with the local visitors.