Caprari Is Awarded for Efficiency
Bologna s ACCADUEO 2014, the XII International Exhibition of Technologies for the Treatment and Distribution of Drinking Water and Wastewater Treatment, has just drawn to a close and Caprari took part with satisfaction, having been rewarded by the great influx of public.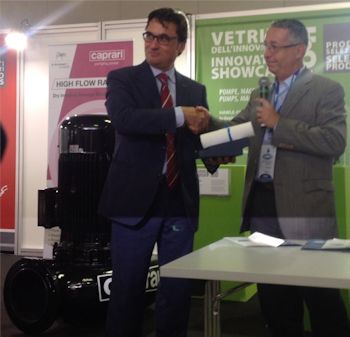 Caprari
During the Exhibition, open dialogue among public utilities, suppliers of services and technology players clearly focused the need to pursue efficiency and modernization in this strategic sector. Caprari considers relations with the partners to be a precious means for sharing information and experience able to promote the continuous improvement of its products and solutions.
Caprari won the Innovation Showcase award, which was consigned during Exhibition by the Technical-Scientific Committee of Water Industry experts. This Committee awards the innovations presented by manufacturers of components and equipment considered of interest as to their pioneering content, energy saving properties and inventiveness.
Caprari competed in the pumps category with the new K-KOMPACT – High Flow Range series, a machine designed to pump wastewater driven by high-efficiency electric surface motors.
These machines are the best solution in dry pit installations, since they can convey fluids containing large amounts of sand and solids in suspension. All the experience acquired with the "non stop K+" series of submersible machines and their technology, has been transferred to the K-KOMPACT series: non-clogging hydraulics and a type of construction that opts for generously sized free passages in channel impellers does away with down times and costly maintenance work. Non stop hydraulics together with high-performance IE3 efficiency class motors (Regulation 640/2009) make the K-Kompact series a true benchmark for this type of application.
Alberto Caprari, Executive Director of Caprari, collected the award.
To accommodate the need for efficiency improvement, Caprari combined the best electrical efficiency currently available on the market (IE3) with the hydraulics normally used for conveying wastewater: that s how the K-Kompact was created.
The "Total Cost of Ownership", or "Life Cycle Cost" as it s called in the world of pumps, has always been a pre-condition for Caprari s research and development activities.
This award proves that the direction taken towards improving the efficiency of the products is the right one, and will provide the company with further incentive for future investments.