C-PAC Module Pneumatic Manifold & Online Store
Cowan Dynamics is pleased to announce advancements to their "C-PAC Module" Pneumatic Manifold and the launch of the C-PAC store.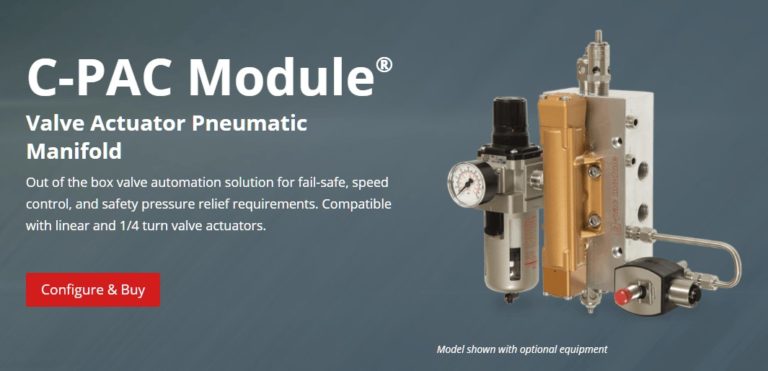 C-PAC Module Pneumatic Manifold & Online Store. (Image source: Cowan Dynamics Inc.)
The C-PAC (Cowan's Pneumatic Actuator Control) is an out-of-the-box solution and can save up to 90% in assembly time and easily automate valve actuators without using cumbersome and costly piping to connect various automation components.
The C-PAC Pneumatic Manifold has the following capabilities for linear & 1/4 actuators:
speed control
safety pressure relief
fail-safe capabilities

Reliability & Safety
Valve actuator technicians and Valve Automation Centers have commented on the reliability and performance of the C-PAC Pneumatic Manifold. Its preassembled manifold configuration eliminates potential leak points and time-consuming troubleshooting that normally would occur with conventional manual installations.
Product Improvements 
Quality improvements such as top-of-the-line ASCO solenoid valves are now standard replacing the option for generic brands.
The C-PAC is also available without pre-installed ASCO solenoid valves. Actuator technicians have the flexibility to select any solenoid valve brand with the appropriate area classification, assuring them of complete compatibility.
Online Store
The online store gives valve automation centers and technicians the ability to easily configure the C-PAC module with over 35 variations for their application. The C-PAC pneumatic manifold can be ordered in 3 sizes:
"What sets Cowan Dynamics apart is our focus on customer satisfaction and ease of ordering", says VP of Business Development, Jean Behara. "Our detailed catalogs are already saving time for buyers and we wanted to give them an easier way to order and we're pleased to announce the launch of our online store. The C-PAC module is only the start to online orders and in the coming months more items will be available."
To provide the best pricing for distributors and resellers, registration is required and account approval happens same day.