BWT Gives Families in Cambodia Access to Clean Drinking Water
At this year's World Water Day on 22 March, Europe's leading water technology company, BWT, will be helping people in Cambodia get access to clean water. A donation will finance the drilling of a well that will supply safe drinking water to 25 families living in a province in the north-east of the country.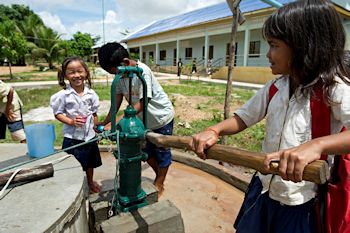 Children next to a drinking-water well (Image: BWT / Childrenplanet)
According to Unicef and the World Health Organisation (WHO), around 800 million people – 11 percent of the world's population – still have no access to clean drinking water. BWT's ongoing commitment to World Water Day BWT is contributing to a gradual reduction in this number.
"Our budget enables more than a hundred adults and children in Cambodia to benefit from a daily supply of clean water for cooking and drinking. We are grateful to our partner, the Austrian aid organisation Childrenplanet, for their dedication, the continuing commitment of their volunteers, and their local organisation," says Ralf Burchert, press spokesperson for BWT. "Our donation of 2500 Euros will go to Childrenplanet to be used for a well-drilling project in the Cambodian province of Stung Treng. We will also educate the local people about the risks of drinking contaminated water."
As part of the "send and donate campaign" on World Water Day (22 March 2013) BWT will make a donation for every table water filter and cartridge sold. Childrenplanet, together with the residents of Stung Treng, can already look forward to further financial support from BWT. Because for every filter cartridge, table water filter and Quick & Clean sold on World Water Day, BWT will donate an additional 1,0 Euro.
Because of their extensive expertise in all areas of water treatment, BWT are well placed to be able to make 98.5 percent of the blue planet Earth's limited water reserves usable. To date, the company has supplied products and services for all water treatment applications, while at the same time making a valuable contribution to the conservation of the world's global resources. Social engagement with the people of Cambodia, for example, forms part of BWT's sustainability initiative and is deeply rooted in the company's commercial activities.
About Childrenplanet
Childrenplanet is a private Austrian aid and development organisation set up in 2009 to help give children in Cambodia the prospect of a better future. A number of educational, health and child support projects have been set up to improve living standards, especially for impoverished families living on the land, and to enable sustainable development in rural regions around Stung Treng, Cambodia. Childrenplanet's aims are exclusively charitable, and Childrenplanet's work is carried out by volunteers.