Bürkert: Robust Solenoid Valves for Gaseous Fuels
Since 21 April 2018, all solenoid valves used in gas applications must not only comply with EU regulation 2016/426 but must also satisfy very different requirements because the application areas are so highly diversified.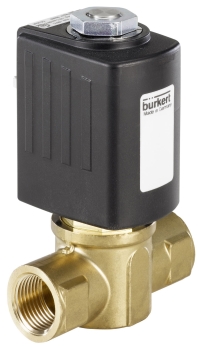 Robust Solenoid Valves for Gaseous Fuels (Image source: Bürkert Fluid Control Systems)
In addition to the standard safety installations for fuel gases, for example, in gas burners and gas equipment, these include their use as shut-off devices in the gas supplies to industrial gas control units, laboratory tables or teaching rooms. This is why Bürkert Fluid Control Systems offers a wide selection of state-of-the-art solenoid valves that conform to the applicable standards and directives. Thanks to the carefully coordinated program, they can also be adapted to the respective application.
All-rounders for diverse application areas
To exclude the possibility of contamination in laboratory and medical technology applications, for instance, all wetted parts of the valves are made from high-quality, flawlessly clean stainless steel. For gas applications, the valves are equipped with PTFE sliding rings that guarantee wear-free operation and long maintenance intervals – even when used with dry media. The "oil and grease-free" variant is suitable for use in oxygen applications. For test bench or analysis facilities, highly sealed and helium-leak-tested variants are also available. With such a wide range of variants, users have no difficulty in finding the right solution for every application and without the need to pay technical overheads.
Combinable to create application-specific system solutions
The same also applies for complex application-focussed system solutions, for which the solenoid valves can be combined with other standardised equipment that complies with the relevant norms. In gas control units, e.g. for industrial furnaces of the type used in hardening plants and for the heat treatment of steel, individual gas control loops can then be installed with shut-off valves and other control devices such as flow controllers etc. for different gases on a base plate and networked with one another. This results in complete "intelligent" units that the user can program depending on the desired mixing ratio. Bürkert has created EDIP (Efficient Device Integration Platform) for this purpose – a practical solution that meets the growing market demand for electric integration solutions. Examples of these types of decentralised complete systems can be found in flame-cutting systems. To control the different gas flows in the technical process, the required fluid control, electric and safety functions can be linked to create an autonomous complete system that can be connected to the process via a single interface.