British Standards Institution Installs Atlas Copco's Piping System
The British Standards Institution (BSI) has installed Atlas Copco's Airnet piping system as part of a £4million upgrade of its test facility in Hemel Hempstead. The upgrade involved replacing the old galvanised steel piping with Atlas Copco's modular aluminium Airnet system, which was fitted quickly to ensure the efficient and reliable delivery of compressed air to users within the facility.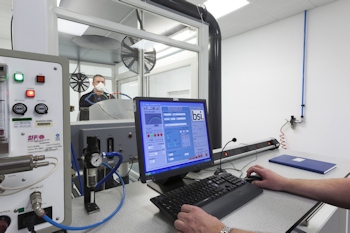 Atlas Copco's Airnet piping system (Image: Atlas Copco)
The pipework is connected to the installation's three Atlas Copco compressors - two fixed speed and one with a variable speed drive (VSD) – which serve the test laboratories and facilities.
Commenting on the decision to update the pipework, Chris Morris, BSI's Facilities and Engineering manager, explained: "Our first inclination was to replace the old air network with galvanised pipe and fittings as before and invited several suppliers to quote but when Kettering-based Compressor Engineering, a company within the Atlas Copco Group, suggested Atlas Copco's Airnet system, our research confirmed that it was the ideal solution."
Discussions are now under way between Compressor Engineering and BSI about a further extension of the Airnet system.
Airnet is made from robust, lightweight, powder-coated aluminium tube and designed for easy, low-cost installation with a large selection of engineered polymer fittings. No special tools are required for assembly. The corrosion-free, low friction and seamless connections of Airnet minimise pressure drop, which contributes to compressed air energy efficiency as well as reducing the cost of ownership.
Chris Morris commented: "Having worked with Compressor Engineering for a number of years I was confident of their capability to carry out the complex installation with the minimum of disturbance to our activities. Our project was a root and branch operation involving structural changes and re-siting of facilities. The Airnet system was extensive and included airline filters, regulators and lubricators at over 50 workstation drops."
As a result of intelligent design and lightweight materials, Airnet can be installed and fixed to walls and ceilings 70% faster than conventional systems and, for many industrial applications, Airnet pipes and fittings can be assembled in just a few steps by a single installer without the need for heavy machinery. All components are easily adjustable and reusable to facilitate future network extensions.
For the BSI site, an important consideration was that the installation was achieved with the minimum of interruption to test procedures as well as to the activities within administration areas through which the compressed air pipework passed. The visual appeal of the pipework and fittings was an added bonus to the system's design flexibility and potential for energy savings. Additionally, the system is future-proofed by a 10-year guarantee against any damages resulting from material defects.
This was the fourth major upgrade that the BSI has undertaken at its Hemel Hempstead site since 1959. In the UK, BSI offers a full range of testing and certification services including pre-assessment, gap analysis, batch testing and full compliance testing. As a Notified Body for CE marking and owner of the trusted Kitemark, BSI has one of the widest testing and certification capabilities in the world. Awarded a Royal Charter in 1929, its clients are located in 150 countries at more than 90,000 sites. BSI's partners include international standards bodies, such as ISO, and external consultants who help their clients and professional affiliations.