Bredel Pumps Provide Hygienic Solutions at Russian Food Plant
Watson-Marlow Fluid Technology Group (WMFTG) has supplied Bredel CIP (clean-in-place) pumps to a global brand sauce and condiments manufacturing plant in Russia.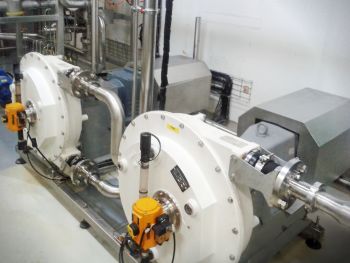 Watson-Marlow
Replacing pumps that were proving difficult to clean and maintain, Bredel CIP 50 models are being used to pump products that include cheese sauce, tomato ketchup and mayonnaise.
Hygiene is paramount in food industry applications, where any failures can have a devastating impact on brand reputation. For this reason, Bredel CIP 50 pumps are available with the option of externally-operated retracting shoes that release the hose so that the line is open and unobstructed for cleaning. Pumps featuring this option are used at the Russian plant with a food-approved hose and food grade lubricant, both from WMFTG, while stainless steel sanitary connectors include DIN, ASA and JIS types.
Daily CIP
Hygiene and sterility are crucial at the plant where, depending on the production plan, CIP is often scheduled daily. The process takes place at full velocity using food industry standard cleaning agents such as Tarmo (1.0%) and ET (0.3-0.5%).