Bredel and Qdos Pumps Cut Cost of Wastewater Treatment at Herbal Drinks and Health Preparations Plant
ndonesia-based PT Sinde Budi Sentosa is leveraging the benefits of Bredel and Qdos pumps from Watson-Marlow Fluid Technology Group to help it reduce downtime and cut costs in the treatment of wastewater from its manufacturing operations.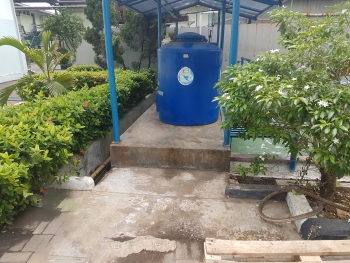 Indonesia-based PT Sinde Budi Sentosa is leveraging the benefits of Bredel and Qdos pumps. (Image source: Watson-Marlow Fluid Technology Group)
PT Sinde Budi Sentosa specialises in the production of herbal products, utilising natural ingredients to produce high-quality health beverages and over-the-counter (OTC) remedies.
In the manufacture of its canned and bottled health and energy drinks, the company uses a wide variety of fruit, including oranges, strawberries, melon, lychees and guava, to add fresh flavours to the special herb and water blend. The preparation of the fruit uses large volumes of water, which is subsequently discharged to an on-site treatment plant before disposal to the municipal waste system.
Pumping solids in suspension
At the treatment plant, a number of problems were being experienced with the air-operated double diaphragm (AODD) pump used to feed wastewater to the filter press. Due to varying levels of soil and sand contained within the wastewater, valves on the AODD pump would regularly stick, and subsequently leak, requiring frequent stoppages for repair.
During a visit to the production plant by WMFTG specialists, PT Sinde was advised that it could improve water treatment, decrease downtime and cut AODD pump spares costs by installing a Bredel 40 peristaltic hose pump for the filter press feed duty. This pump type can handle viscous and abrasive slurries, pastes and sludge, with up to 80 percent solids in suspension.
The Bredel 40 has not only reduced maintenance downtime and spares costs at PT Sinde, but energy costs are now far lower as there is no longer any need to run a compressor for long periods to operate the previous AODD pump.
Controlled chemical dosing
In a separate process, another AODD pump was being used to dose chemicals such as HCI, NaOH and chlorine into the wastewater for purification purposes, which presented a different problem. PT Sinde needed to know exactly how much chemical was being dosed, but this level of control and accuracy was not possible with the AODD pump.
WMFTG recommended that a Qdos chemical metering pump be dropped into the water purification process to provide precise dosing information. ReNu technology is at the core of Qdos pumps and ensures accurate and repeatable flows while facilitating quick and safe pumphead removal and replacement, without the need for tools. In addition, integral leak detection reduces wastage and eliminates operator exposure to chemicals.
Among the key features of WMFTG pumps is their suitability for high viscosity and abrasive fluid applications, as well as dry running and self-priming. All of this capability is achieved without ancillaries like back-pressure valves, pulsation dampeners, degassing valves or float switches. Moreover, Bredel peristaltic hose pumps and Qdos chemical metering pumps offer much simpler installation and reduced spares inventory.
The success of the pumps at PT Sinde illustrates WMFTG's capability to lower total cost of ownership (TCO) across water and wastewater applications in many different sectors.