Breaking Ground for New State-of-the-Art Building at the Headquarters of Pfeiffer Vacuum Subsidiary in North America
Pfeiffer Vacuum is breaking ground in Nashua, NH, USA, on a new, two story 27,000 square foot building.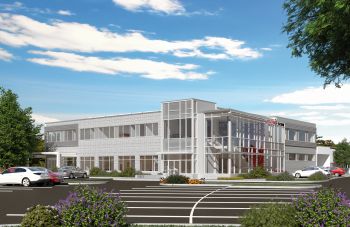 Breaking ground for new state-of-the-art building at the headquarters of Pfeiffer Vacuum subsidiary in North America (Image: Pfeiffer Vacuum GmbH)
This modern construction will house the North American headquarters for administration, sales, product management, marketing and customer care. In parallel, the existing 24,000 square foot building will be converted to a Service Center of Excellence, bringing together under one roof all service activities of the entire Pfeiffer Vacuum product portfolio. State-of-the-art automated cleaning and test equipment will be utilized to produce the highest quality repairs in a timely manner.
These investments are further evidence of our ongoing commitment to support our valued customers throughout North America, while at the same time providing a modern, best in class work environment for our staff for many years to come, said Dr. Matthias Wiemer, Management Board Member at Pfeiffer Vacuum Technology AG.