Bower Bows Out as BPMA Technical Committee Chairman and Hollins Hops On-board
After holding the position for the past 10 years, John Bower of Flowserve has recently retired from the role of BPMA Technical Committee Chairman.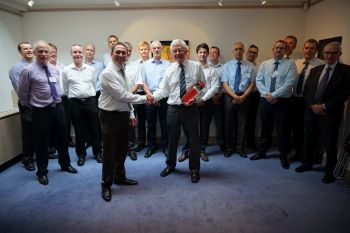 John Bower (Image: BPMA)
As part of this important industry role John also held positions within British Standards Institution as BSI MCE/6 Chairman and as ISO TC 115 SC 1 Chairman. He also sat on many technical committees within Europump as well as updating BPMA Council on various technical matters throughout the past decade. John has been a significant figure in the pump industry who has worked tirelessly for the benefit of all, and he will be sorely missed.
The supporting photograph pictures BPMA Director & Chief Executive Steve Schofield wishing John a long, happy and healthy retirement, whilst offering a card and token of gratitude with other members of the BPMA Technical Committee. This presentation took place at the June Technical Committee meeting held at the offices of Collyer Bristow Solicitors in London.
The person replacing John Bower in this important role is John Hollins, who holds the position of Engineering Manager of SPP Pumps. Although he has significantly large shoes to fill, John has been a member of the BPMA Technical Committee for a number of years already and so is well versed with the workings of this important group.
He is currently responsible for all SPP Pumps products and technical risk. This includes the design, development and testing of new products as well as engineered to order projects with values in excess of £4million. He also has responsibility for risk assessing new products for CE marking and reviewing new designs. He is a member of various industry technical committees and sits on several standards writing working groups for both ISO and BSI.
Commenting on the changes, Steve Schofield of the BPMA said, "John's commitment to the role over the past 10 years has been nothing short of tremendous, and we are enormously grateful for all he has achieved on behalf of the BPMA and of course the wider pump industry. We wish him a wonderful retirement. But at the same time, we welcome John Hollins to the role, who I know will continue the important work of the BPMA Technical Committee, as we navigate the unchartered waters of Brexit".