BOC Edwards to Provide Bespoke Vacuum Turbo Carts for Diamond Synchrotron
BOC Edwards has won a contract to supply 14 vacuum turbo carts for the new Diamond Light Source synchrotron in Oxfordshire, the largest UK-funded scientific facility for over 30 years. The carts are a bespoke design based on ...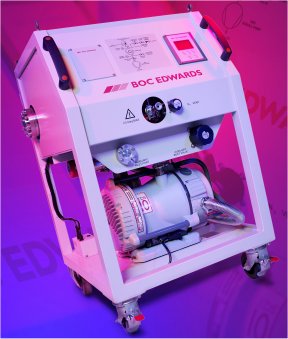 BOC Edwards
BOC Edwards' TIC turbo cart pumping station and will be used to create the optimum vacuum conditions required by researchers when using the synchrotron light beams at the site.
The carts will be used to evacuate and vent the experiment 'beamlines' where light is channelled and used in individual experiments. By creating a suitable vacuum environment (better than 5 x 10-9 mbar), undesired background components of the atmosphere such as air and water vapour are removed, enabling better interaction between the light beam and the experimental subject under investigation.
Each cart includes a turbomolecular pump, backing pump, gauge and controller. By combining all these elements within one easy-to-use, mobile, 'plug and go' unit, researchers can avoid the cost and space requirements of permanent vacuum installations on each individual beamline. The bespoke design produced for Diamond Light Source also includes convenient handles and lockable castors for greater portability between experiments. A compact enclosure enables the unit to be wheeled under beam lines or to other locations, as required.
When completed, the Diamond synchrotron hopes to host up to forty cutting-edge research stations, each designed to support a particular research community or technique. In Phases 1 and 2, where the BOC Edwards' carts will be first deployed, techniques include microfocus spectroscopy, high-resolution powder diffraction and circular dichroism.
BOC Edwards, a BOC Group line of business, is a world leader in vacuum and pressure technology for industrial, scientific, process and semiconductor applications. The company designs, manufactures and supports equipment capable of achieving high vacuums down to 10-10mbar and pressure up to 3.5 bar. BOC Edwards invented the concept of the oil-free 'dry' vacuum pump and now markets a range of dry pumps using claw, roots, scroll and combined mechanisms for a wide range of vacuum and pressure applications. Other product technologies include rotary vane, vapour diffusion, liquid ring, steam ejector and turbo molecular pumping.
The BOC Edwards coating business offers thin film deposition systems for scientific and R&D applications, and a range of spectacle lens coating systems for the ophthalmic retail trade. BOC Edwards Pharmaceutical Systems produce specialist freeze drying and filling systems for aseptic packaging applications.
BOC Edwards is the trading name of BOC Limited which is part of The BOC Group plc.
Serving two million customers in more than 50 countries, The BOC Group is one of the largest and most global of the world's leading gases companies. It employs over 30,000 people and had annual sales of over £4.6 billion (more than US$8 billion) in 2004. For more than a century BOC's gases and expertise have contributed to advances in many industries and aspects of everyday life, including steel-making, refining, chemical processing, environmental protection, wastewater treatment, welding and cutting, food processing and distribution, glass production, electronics and health care.
Diamond Light Source is a new synchrotron facility, under construction in South Oxfordshire (UK), and scheduled to open in early 2007. This 21st century machine can be described as a series of 'super microscopes', which will be housed in a 235m diameter doughnut-shaped building. Eventually Diamond could provide as many as 40 different scientific experimental stations. A key goal of Diamond is to become a leading UK research base with a unique culture that cross-fertilises ideas from different fields of science.
Diamond will produce ultra-violet and X-ray beams of unprecedented quality & brightness, in the region of 100 billion times brighter than hospital X-ray machines. These will enable scientists & engineers to look deep into the basic structure of matter, materials, and biological samples. With such techniques, researchers will conduct highly advanced experiments leading to scientific breakthroughs in the fields of biotechnology, medicine, environment & materials research. Researchers, primarily from academia but also industry, are expected to come from across Europe to use the facility. As part of the service, dedicated Diamond researchers will be available to assist devise and conduct experiments.
The synchrotron is operated by Diamond Light Source Limited. This new company is a successful joint venture between two shareholders. Government through the Council for the Central Laboratory of the Research Councils (CCLRC) own 86% of shares, whilst The Wellcome Trust, one of the world's leading biomedical research charities and the UK's largest non-governmental source of funds for biomedical research, own 14%.