Blockage-free Pumping With ABS' New AFP-ME Pumps
ABS is launching a new range of submersible sewage pumps, the AFP-ME series, retaining its leadership in blockage-free pumping.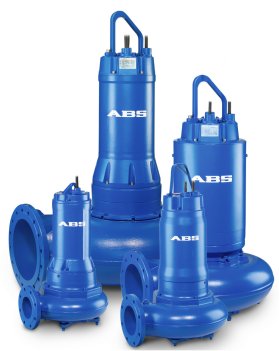 For more than a decade, the AFP pump has been the core of the ABS submersible pump range. Robust and reliable, AFP pumps are running in over one million tough sewage and wastewater applications world-wide, giving trouble-free and efficient operation.
ABS is now introducing the next generation of AFP pumps, the AFP-ME series, offering blockage-free pumping features and superior reliability together with the highest motor efficiency in the submersible pump business. The new series cover pumps from 9 to 160 kW (15 – 214 hp) for 50 Hz and 13 to 185 kW (17 – 248hp) for 60 Hz.
Hands-on Know-How
The new AFP-ME offers:
Low operating costs, through blockage-free operations with the well-proven ContraBlock® system
Low power consumption, with industry leading motor efficiency
Excellent serviceability and minimized maintenance costs, through the modular design, modern motors and a new unique cooling system.
Blockage-free pumping features
Blockage-free sewage pumping is critical for trouble-free and cost-effective operation of pumping stations and treatment works. Frequent and unexpected call-outs to clear pump blockages are expensive, but common.
Years of field experience combined with intensive research at the ABS hydraulics laboratory gives ABS a unique position in blockage-free pumping. The new AFP-ME offers excellent solids handling capabilities through ContraBlock® and a larger free passage, which mean less call-outs and on site support costs.
The innovative ContraBlock® hydraulic system, patented in 1969, has been fine-tuned and continuously improved over the years. The system acts as an anti-blockage device, ensuring that solids or fibres are transported through the pump without blockage. With ContraBlock®, the need to lift blocked pumps to free them is greatly reduced.
Wide range of applications
The AFP-ME series provide a large variety of opportunities in municipal and industrial applications, including effluent treatment, food processing, breweries and pulp & paper mills. The pumps are suitable for clear water and wastewater, for sewage and sludge containing solids and fibrous material.
The AFP-ME comes with several impeller options including ContraBlock®, vortex and closed impellers for the larger pumps.
Installation can be either wet or dry thanks to the new, efficient, closed loop cooling system. The pumps are suitable for every type of installation whether fixed or portable, horizontal or vertical. The ABS automatic coupling system ensures quick and reliable installation.