Blackmer XL Sliding Vane Pumps Provide Energy-Efficient Performance for Lube Oil Applications
Blackmer announced that the designed in features of its XL Series sliding vane pumps can improve overall efficiency and performance in lube oil applications.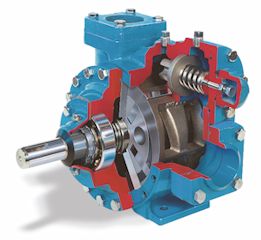 Blackmer XL Sliding Vane Pumps (Image: Blackmer)
The design advantages of the XL Series have resulted in improved performance, longer service life and reduced maintenance requirements, while providing significantly reduced energy consumption in numerous transfer applications within a lube oil plant.
XL Series pumps are constructed of ductile iron that will withstand sudden thermal shock and stress well beyond the capabilities of cast iron pumps. All models are fitted with replaceable casing liners and end discs that allow easy rebuilding of the pump without the need to remove the pump from the piping. The XL models are available in 1.25-, 1.5-, 2-, 3- and 4-inch port sizes with capacities from 5 to 345 gpm (19 to 1,305 lpm). The 1.25- and 1.5-inch models have NPT-tapped ports and are capable of running at motor speeds up to 1,750 rpm. The 2-, 3- and 4-inch models have flanged ports.
Standard elastomers including FKM O-rings with optional Buna-N or PTFE elastomers are also available. A wide variety of mechanical seal components and vane materials are optional as well. Mounting options include base-mounting with helical gear reducers for all sizes or an integral bracket for direct mounting to a NEMA C-face motor for the XL1.25 and XL1.5 models.