Blackmer TLGLF Flange-Mounted Pumps Deliver Superior Performance
Blackmer announces its TLGLF flange-mounted pumps are available for LPG bobtail and transport trucks. Blackmer takes product reliability to the highest level with its TLGLF pumps, flange mounting directly to commercial internal control valves, eliminating the need for inlet pipes, shutoff valves and external strainers that can restrict flow and cause vaporization problems, resulting in smoother operation and longer pump life.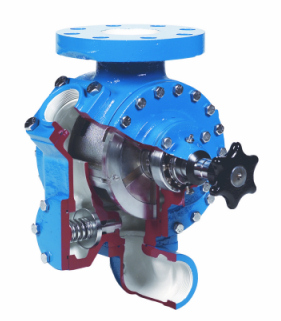 Blackmer
TLGLF3 pump capacities range from 60 to 129 U.S. gpm (227 to 488 lpm) with a 3" ANSI intake flange. For maximum output and fast turns on transport loading, the TLGLF4 pump powers 200 to 350 U.S. gpm (757 to 1,325 lpm), with a 4" ANSI intake flange. Maximum differential pressure for both units is 125 psi (8.62 Bar).
Both models are equipped with a double-ended drive shaft for clockwise or counterclockwise rotation by simply changing the pump position. Each provides an auxiliary intake port, which can be used for emergency unloading of another tank or transport. Along with an internal relief valve, Blackmer's UL-listed TLGLF pumps feature patented noise suppression liners to reduce cavitation, noise, vibration and wear.
Standard Buna-N mechanical seals and Duravanes on the TLGLF pumps handle both LPG and anhydrous ammonia. Replaceable casing liner and end disks mean easy rebuilding of the pump chamber if ever required. Blackmer originated the first truck-mounted pump in 1915, continuing to bring innovative pumping solutions ever since, earning it a proven track record and a high performance reputation.