Blackmer Sliding Vane Pumps Designed to Handle Temperature and Viscosities in Asphalt Production
Blackmer has announced that it has designed its TXV Series Sliding Vane Pumps to meet the challenges inherent in the production and handling of asphalt, a commodity that can feature high temperatures and varying viscosities.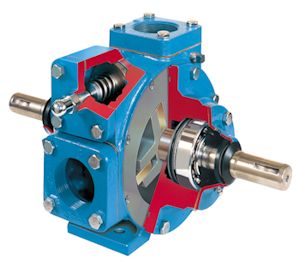 Blackmer
Blackmer has designed its TXV pumps to provide high-volume, low-speed transfer of asphalt. The key to the TXV's performance in these applications is the pump's unique sliding vane rotor design that provides sustained, high-level performance over a wide viscosity range. In addition, the pump's ability to offer slow operating speeds and non-pulsating flow minimizes shear and product agitation. The pumps are also self-priming and can run dry for short periods of time for priming purposes.
TXV pumps are available in 2.5- and 3-inch port sizes. The standard cast-iron construction includes a special open-rotor design that offers easy flushing, bronze vanes, FKM elastomers, PTFE lip seals, high-temperature grease-lubricated ball bearings that are isolated from the pumpage and high-temperature gasket-materials. TXV pumps deliver more fluid per revolution than comparably ported gear pumps while their slower operating speeds result in longer service life and reduced maintenance requirements. The TXV's internal relief valve also protects the pump from pressure buildup.