Blackmer NP Series Sliding Vane Pumps
Blackmer announces that the designed in features of its NP Series sliding vane pumps can improve the overall efficiency and performance for biodiesel production plants. The design advantages of the NP Series have resulted in quieter operation, longer service life and reduced maintenance requirements, while providing significantly reduced energy consumption in several transfer applications within a biodiesel plant.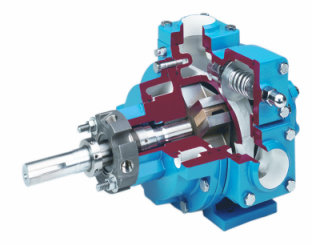 Blackmer
NP Series pumps are designed to offer maximum versatility for handling a wide range of clean, non-corrosive fluids. The high volumetric efficiency and low slippage of these pumps means they require less horsepower and up to 50% less power when handling viscous fluids. The pumps are available in five port sizes ranging from 1.5 to 4 inches with flow rates from 5 to 500 U.S. gpm (19 to 1,893 lpm) and operating temperatures to 500°F (260°C). The versatility of the pumps allows them to be used in a variety of loading and unloading operations, including the difficult application of top-unloading railcars. The pumps' tremendous suction capability also increases efficiency in the process of removing the "heel" out of a railcar or tanker truck.
The key to the NP Series' versatility is Blackmer's unique sliding vane design that provides sustained, high-level performance over a wide viscosity range. NP pumps are self-priming, meaning that they can run dry for short periods of time for priming and clearing lines of residual product. The pumps have a unique head and sleeve bearing design that allows a small quantity of fluid to flow from the discharge side of the pump to the bearings. This small, continuous flow of fluid over the bearing surfaces provides a hydrodynamic film, which minimizes temperature rise for longer bearing life.
NP pumps are also available in a 316 stainless steel SNP Series with port sizes ranging from 1.25 to 3 inches and flow rates from 2 to 265 gpm (8 to 1,000 lpm). While 316 stainless steel is used on all significant wetted parts, the sliding vanes and end discs are non-metallic, which reduces friction and eliminates galling.