Blackmer ML Series Pumps Ideal for Highly Viscous Liquid Transfer in Terminal Operations
Blackmer is pleased to announce that its ML Series Sliding Vane Pumps have been designed to handle highly viscous fluids such as oil, waste oil, abrasive slurries, asphalts, molasses and adhesives.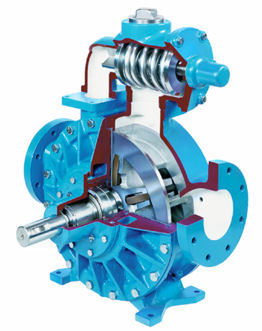 ML Series (Image: Blackmer)
This makes the ML pumps ideal for liquid-terminal operations that require high-capacity product transfer, top or bottom loading/unloading and blending at the rack.
Blackmer's ML pumps are well suited for barges, ships, underground/aboveground storage tanks and terminal transfers thanks to their self-priming and high-suction capabilities that enable them to clear tanks of product more effectively and efficiently than competitive models. In fact, ML pumps can handle fluid viscosities from 30 to 500,000 ssu (1.0 to 108,000 cS) with flow rates up to 600 gpm (136 m3/h) and at operating temperatures as high as 400º F (206ºC), thanks to a jacketed pump-head option.
ML pumps are available with your choice of an internal sleeve with external stuffing box or internal mechanical seals with external ball bearings, while modular bearing hubs allow the pumps to be easily reconfigured in the field. The pumps feature ductile-iron construction with a bolt-on internal relief valve that protects against excessive operating pressures. A symmetrical bearing support assures even loading and wear while providing maximum seal reliability.