Blackmer LB Series Gas Compressors Chosen in Upgrade of Algerias LPG Distribution System
30.01.2009
Looking for ways to ensure its status as the world's second-largest exporter of liquefied petroleum gas, the government of the North African nation of Algeria determined in 2007 that an upgrade to the gas compressor technology at its 20 LPG distribution terminals was in order.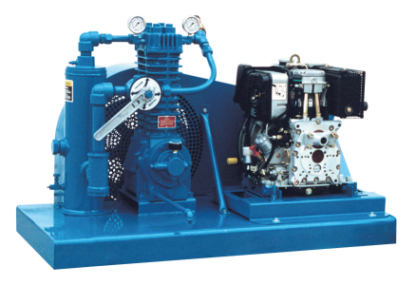 Blackmer LB601 gas compressor
After performing thorough due diligence, NAFTAL—the governmental agency that oversees the operation of the LPG terminals—insisted on Blackmer® gas compressor technology.
For the upgrade, NAFTAL chose Blackmer LB601-LU Model of single-stage, oil-free, base-mounted reciprocating gas compressors. The operation of the LB gas compressors creates a low-pressure area in the compression chamber when the piston moves from the highest point of the stroke to the lowest point, forcing the gaseous product (which is at a higher pressure) to move into the compression chamber. The gas is then displaced when the piston moves to the top of the stroke. This pressurization is critical in transferring LPG from a railcar to a transport truck. In addition, the compressors are also capable of recovering vapors, which can add an equivalent of 3% capacity to every load.
The first compressor was installed, under the supervision of Al Buhler, Blackmer's International LPG Sales Manager and Senior PSG Product Specialist, in fall 2008, with the rest of the equipment installed at the other terminals locations by year's end. There, the compressors play a pivotal role in the loading and unloading of railcars and large transport trucks, which deliver the LPG to substations throughout the country, from which the fuel is distributed for mainly household heating. The installations have been such a success that Buhler anticipates additional compressor orders from NAFTAL this year.
"The decision to place the LPG compressor order with Blackmer was based on the quality of the products and brand-name recognition," said Buhler. "This was an excellent example of really cooperating with a government entity and being successful by making them feel very comfortable with the product."
About Blackmer
Blackmer is the leading global provider of innovative and high-quality rotary vane pump and reciprocating compressor technologies for the transfer of liquids and gasses. For more than a century, the Blackmer name has stood for unparalleled product performance, superior services and support, well-timed innovation and a commitment to total customer satisfaction. Supported by a worldwide network of distributors and original equipment manufacturers, Blackmer pumps and compressors are used in a multitude of applications in the Process, Energy, Transport and Military-Marine markets. Blackmer—headquartered in Grand Rapids, Michigan, USA—is a member of Dover Corporation's Pump Solutions Group.