Blackmer LB Series Gas Compressors Chosen For Upgrade of Lenoblgaz OAO'S LPG Pumping Station
Lenoblgaz OAO is the main supplier of LPG and natural gas to nearly 1,000 commercial customers and more than 540,000 residences in the country's sprawling Northwestern District. The company's customer base is supplied by a product-pipeline network that totals 4,436 km (2,757 miles) and includes six pump-station branches.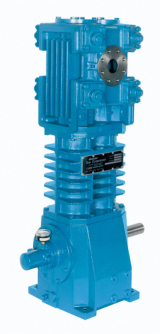 Blackmer LB Series
Lenoblgaz determined that it needed to upgrade its reciprocating gas compressor at its Tihvin Mezhraygas pumping station and turned to the leader in the industry—Blackmer®—and its LB942-LW Model Reciprocating Gas Compressor.
The Tihvin Mezhraygas pumping station is located in Lodeynoe Pole, which is in Leningrad Province about 210 km (130 miles) northeast of St. Petersburg. Working with AMT Engineering, which is Lenoblgaz's Blackmer distributor in the area, the Blackmer LB Series compressor was originally installed more than 5 years ago and has needed routine maintenance only once, in 2009 when a piston ring was replaced. The LB Series compressors are ideal for Lenoblgaz's needs because they feature single-stage, oil-free operation and are designed specifically for LPG transfer and vapor recovery and for the conditions found at the Tihvin Mezhraygas facility, which involve the frequent loading and unloading of LPG from railcars and underground storage tanks.
In addition to the operational benefits, Blackmer LB compressors start easily, even when full of product. The LB's design also makes it less noisy due to reduced vibration when operating. LB oil-free reciprocating compressors deliver high efficiency in handling a wide range of liquefied gases, and are especially well- suited for unloading rail cars, pressure vessels, transports and tanks that present poor suction conditions for pumps where system piping restricts flow and installations that require an initial lift to the liquid. The compressor operates in a wide range of temperatures (-10°C to 37°C or 15°F to 100°F), an important feature for the Tihvin Mezhraygas pumping station.
Lenoblgas was so pleased with the performance of the LB compressor that a second LB942-LW model was purchased and installed next to the original at the Tihvin Mezhraygas facility.