Blackmer Launches Paint & Coatings Website
Blackmer is pleased to announce that it has launched a new website focusing specifically on the global Paint & Coatings industry.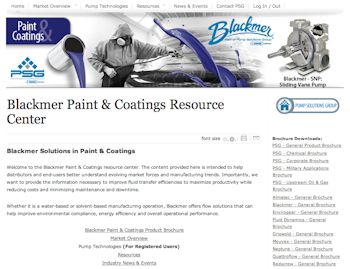 New Website (Image: Blackmer)
The new website was developed in order to help Blackmer distributors and customers better understand evolving market forces, environmental regulations and manufacturing trends impacting Paint & Coatings manufacturers. The website also includes a look at the history of Paint & Coatings, the chemistry behind Paint & Coatings, a glossary of terms associated with the industry, along with a list of associations and upcoming relevant tradeshows.
Blackmer sliding vane pumps are ideal for most Paint & Coatings manufacturing applications due to their reliability, versatility, energy-efficiency and environmental sensitivity. Whether it is a water-based on solvent-based application, Blackmer offers a variety of pumps that help to improve overall operational performance.