Blackmer Launches New Web Site Dedicated to Smart Energy Initiative
26.05.2010
Blackmer continues to dedicate itself to creating the most energy-efficient, environmentally friendly and bottom-line beneficial technologies for use in manufacturing operations throughout the world.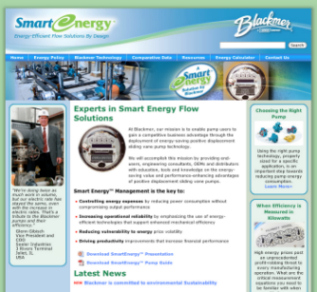 Blackmer Launches New Web Site
To help communicate this commitment and give its valued customers ready access to information about the energy-saving benefits of Blackmer pumps, the company has launched the Blackmer Smart Energy Web site.
This Web site is a key component in Blackmer's new Smart Energy Flow Solutions initiative, which has been created as a way to illustrate how manufacturing operations around the globe can benefit by incorporating Blackmer pumping equipment and technologies into their energy-management processes and procedures.
One of the most unique areas of the new Web site is the Energy Calculator. This allows users to calculate just how much energy they would save if they were to introduce Blackmer pumping equipment into their operations. The Energy Calculator is simple and easy to use. After the user enters the current energy costs in cents per kilowatt hour and the existing (Pump A) Brake Horsepower being used, a comparative Brake Horsepower from a Blackmer pump is entered with the expected annual savings in energy costs automatically calculated.
Other features of the new Web site include information and links to Blackmer's Smart Energy products; access to a 20-page "Smart Energy Flow Solutions Pump Guide, which has been designed to show how Blackmer pump technology can deliver superior energy-saving advantages in process applications; links to U.S. federal legislation that affects energy usage; comparative data of which to be aware when selecting a pump; and Smart Energy tips and FAQs.